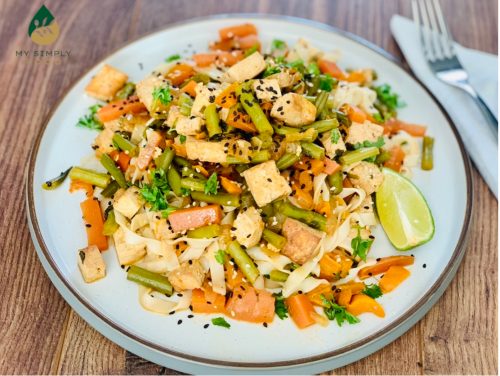 Vegan Pad Thai
Our Pad Thai is a great vegan dinner option for lovers of Thai cuisine.
Ingredients:
1 onion
A piece of chili peppers
1 pepper
2 carrots
300g of green beans
Handful of coriander
Soy sauce to taste
Tamari sauce to taste
Salt
Pepper
1 teaspoon of sweet pepper
Vegetable oil for frying
1 cube of firm tofu
rice noodles
Tofu sauce:
1 teaspoon of garlic granules
1 teaspoon of sweet pepper
3 tablespoons of soy sauce
2 tablespoons sesame oil
A method of preparing:
Heat the oil in a large frying pan or saucepan.
Peel the onion and cut it  finely and fry until tender. Then also cut the other vegetables and add them to the onion.
Season with sweet pepper, salt, pepper and add sauces to taste. Stew everything for about 20 minutes until the vegetables are tender.
In the meantime, prepare tofu.
In a bowl, mix granulated garlic, sweet pepper, soy sauce and sesame oil.
Dice the tofu.
Put the tofu on a separate frying pan and pour the sauce over it.
Fry until the tofu is golden. Add to vegetables.
Cook the rice noodles according to the instructions on the package and mix them with vegetables.
Finally, add the finely chopped coriander, drizzle with a few drops of lime
and sprinkle with white and black sesame seeds.
Bon Appetite !