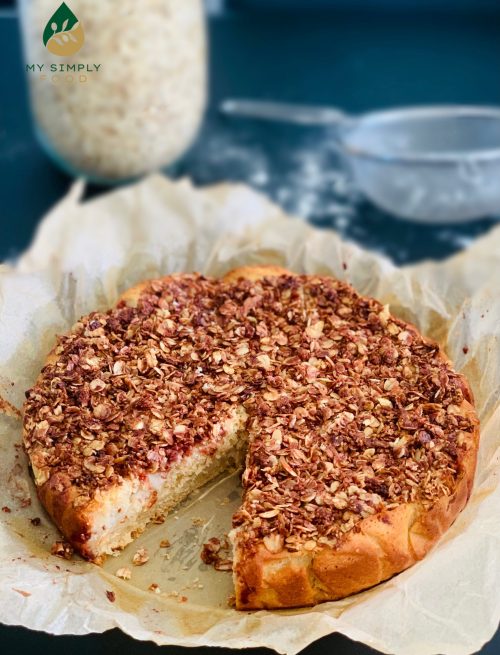 Vegan, gluten-free pear yeast cake
Ingredients: (24 cm springform cake tin)
500g gluten-free flour
450ml of oat milk
½ cup of cane sugar
50 ml of sunflower oil
30 g of fresh yeast or 2 heaped teaspoons of dried yeast
4 ripe pears
Crumble:
1 cup of oatmeal
3 tablespoons of date syrup
Half a lemon juice
Method of preparing: 
1. Wash and peel the pears and cut them into smaller pieces.
2. In a small bowl, mix the prepared: yeast, 4 tablespoons of flour, 2 tablespoons of sugar and warm milk. Set aside for 15 minutes.
3. After this time, in a large bowl, mix the working yeast with the remaining flour, sugar and oil.
4.In a bowl, mix all the crumble ingredients.
5. Put the dough into a springform pan. Arrange the pears, lightly pressing them inside the cake.
6. Leave it for 30-60 minutes for the dough to rise (depending on the ambient temperature).
7. Sprinkle the crumble on top and bake for 40 minutes in an oven preheated to 180 degrees C.
Enjoy 🙂
Weganskie, bezglutenowe, drozdzowe ciasto z gruszkami
Skladniki: ( na tortownice o srednicy 24cm)
500g mąki bezglutenowej 

450ml mleka owsianego

½ szklanki cukru trzcinowego

50 ml oleju słonecznikowego 

30g świeżych drożdży lub 2 czubate łyżeczki drożdży suszonych

4 dojrzałe gruszki 
Kruszonka: 
1 szklanka płatków owsianych

3 lyzki syropu daktylowego 

Sok z polowy cytryny 
Sposob przygotowania: 
Gruszki myję, obieram i kroje na mniejsze kawalki. 

W małej miseczce mieszam przygotowane: drożdże, 4 lyzki mąki, 2 łyżki cukru oraz cieple mleko. Odstawiam na 15 minut. 

Po tym czasie w dużej misce mieszam pracujące drożdże z pozostałą mąką, cukrem i olejem.

W miseczce mieszam wszystkie składniki kruszonki. 

Ciasto przekładam do tortownicy. Ukladam gruszki lekko je wciskając do środka.

Pozostawiam na 30-60 minut aby ciasto urosło (zależnie od temperatury otoczenia).

Posypuję kruszonką i piekę przez 40 minut w piekarniku nagrzanym do 180 stopni C.
Smacznego 🙂