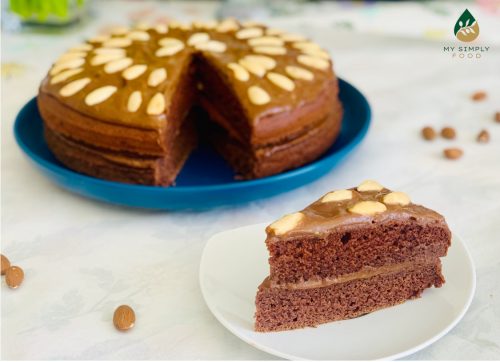 Vegan and gluten-free cake with chocolate cream and almonds
Our cake with chocolate cream and almonds is very fast and easy to make. Great option for party, especially when your guests are vegan or gluten-free.
Ingredients:
3 cups of gluten-free flour
1 cup of brown sugar
2 teaspoons of baking soda
6 tablespoons of dark cocoa
2x pinch of salt
3/4 cup rapeseed oil
2 cups of plant-based milk
It may optionally add sugar or vanilla extract
Almonds for decoration
Chocolate cream:
4 bananas
1 avocado
3 -4 tablespoons of cocoa
Method of preparing:
Set the oven to 180 ºC. Two 24 cm diameter molds are lined with baking paper – just the bottom
In a bowl, combine the milk and oil.
In a second bowl, sift the flour, soda, salt and sugar.
Mix the contents of both bowls and pour the dough into prepared molds.
Put in the oven and bake for about 30 minutes or until the stick inside remains dry. Cool down both cakes.
To prepare chocolate cream blend all ingredients until smooth consistency
Soak the almonds in warm water. After 10 minutes, drain and peel.
Put 3/4 of the chocolate cream on the cooled down sponge cake and even it out. Cover with the second sponge cake and brush again with 1/4 rest of the cream.
Decorate the top with almonds.
Put the whole cake in the fridge for at least an hour.
Enjoy !