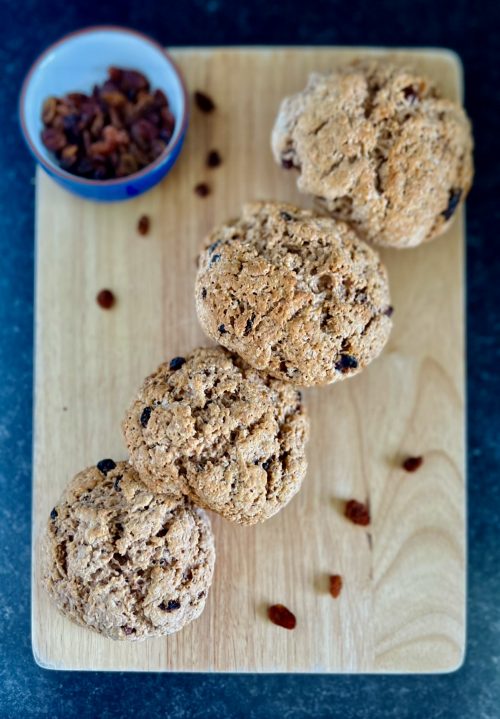 Vegan cinnamon buns with raisins
Ingredients
200g of plain flour (or gluten-free)

2 spoons of baking powder

60g of brown sugar

40g of raisins

1 tablespoon of cinnamon

170g of coconut yogurt

10g of melted vegan margarine
Preheat the oven to 200 degrees.
In a large bowl, combine the flour, baking powder, sugar, raisins, cinnamon and yoghurt together.
The dough will be quite sticky,  so it is good to dust them with flour before forming the buns.
Form 4 small buns and put them on a baking tray lined with baking paper.
Then spread the melted margarine on the top of each bun.
Bake for about 20 minutes.
Bon Appetit
Weganskie cynamonowe bułeczki z rodzynkami
Składniki:
200g mąki przennej ( lub bezglutenowej)

2 łyżeczki proszku do pieczenia 

60g brązowego cukru 

40g rodzynek

1 łyżka stołowa cynamonu 

170g jogurtu kokosowego 

10g roztopionej margaryny wegańskiej 
Rozgrzej piekarnik do 200 stopni.
W dużej misce dokładnie wymieszaj mąkę, proszek do pieczenia, cukier, rodzynki, cynamon i jogurt. 
Ciasto będzie dość kleiste, wiec przed uformowaniem bułeczek dobrze jest opruszyć je mąka. 
Uformować 4 nie duże bułki i przełożyć je na blaszkę wyłożoną papierem do pieczenia. 
Następnie wierzch każdej bułeczki posmarować roztopioną wcześniej margaryna. 
Piec ok. 20 minut.
Smacznego