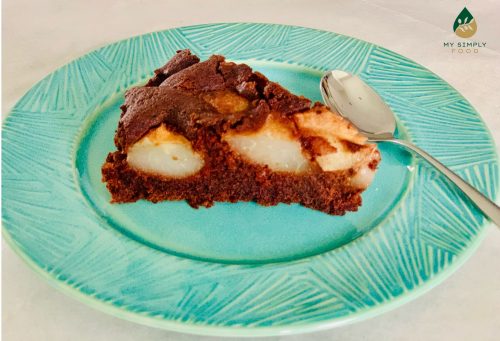 Vegan and gluten-free chocolate pear cake
Ingredients (24 cm springform cake tin)
1 glass of corn flour
1 glass of rice flour
¾ glass of oil (I used sunflower oil)
3 tablespoons of linseed
9 tablespoons of water
1 glass of xylitol or brown sugar
1 glass of plant-based milk ( I used oat milk)
1½ teaspoon of baking soda
4 heaped tablespoons of cocoa
2 teaspoons of vanilla extract or 1 teaspoon of vanilla oil
5 pears (preferably well-matured)
Method of preparing:
Peel the pears and cut them into larger pieces.
Mix the linseeds with water, then add sugar.
While still stirring, gradually add oil, milk and vanilla oil.
Mix the flour, soda and cocoa and add to the wet ingredients. Mix everything up.
Line the cake tin with baking paper, pour out the dough and place the sliced pears on it.
Put the dough in an oven preheated to 180 ° C and bake it for about 45 minutes.
Before taking the dough out of the oven, use stick to check if it is baked.
Bon Appetite !