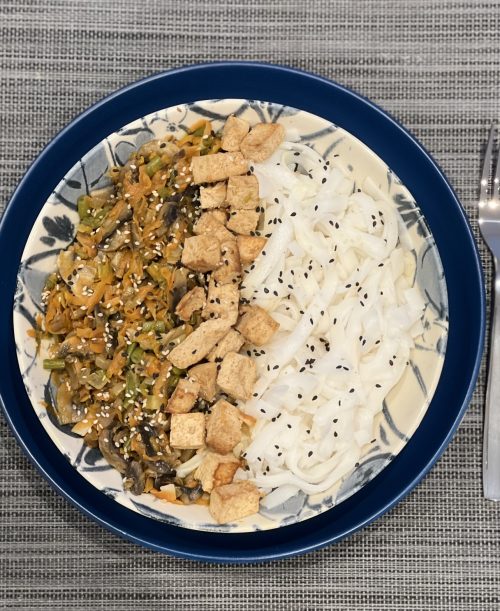 Rice noodles with tofu and vegetables
Ingredients:
200g of rice noodles
300g of hard tofu
2 carrots
1 onion
200g of green beans
250g of mushrooms
Soy sauce
Tamari sauce
Salt
Pepper
2 tablespoons of vegetable oil
Tofu sauce:
2 tablespoons of sesame oil
2 tablespoons of soy sauce
1 tablespoon of sweet pepper
1 teaspoon granulated garlic
A method of preparing:
Cook the pasta according to the instructions on the package.
In a small bowl, combine sesame oil, soy sauce, sweet pepper, and garlic granules.
Cut the tofu into larger cubes, put them into the frying pan and mix with the resulting sauce.
Fry until the tofu is golden on both sides. After frying, put it back in a bowl.
Then chop the onions, mushrooms and green beans and grate the carrots on a large-mesh grater.
In a frying pan (preferably wok) heat 2 tablespoons of oil, add onions and fry it. Then add the mushrooms, green beans and carrots. Season with soy sauce, salt and pepper to taste, and optionally with tamari sauce.
Stew until the vegetables are soft.
Serve the dish warm with rice noodles and tofu, sprinkled with white and black sesame seeds.
Enjoy your meal.
Ryżowy makaron z tofu i warzywami
Składniki: 
200g makaronu ryżowego 

300g twardego tofu

2 marchewki

1 cebula

200g fasolki szparagowej

250g pieczarek 

Sos sojowy 

Sos tamari

Sól

Pieprz 

2 łyżki oleju roślinnego 
Sos do tofu: 
2 łyżki oleju sezamowego

2 łyżki sosu sojowego

1 łyżka słodkiej papryki

1 łyżeczka czosnku granulowanego 
Sposób przygotowania:
Makaron ugotuj wedlug instrukcji na opakowaniu. 
W małej miseczce wymieszaj olej sezamowy, sos sojowy, słodką paprykę i czosnek granulowany. 
Tofu pokrój w wiekszą kostkę, przełoż na patelnie i wymieszaj z powstałym sosem. 
Smaż do momentu, aż fotu zarumieni się z obu stron. Po usmażeniu odłóż do miseczki. 
Nastepnie pokrój cebule, pieczarki oraz fasolkę szparagową a marchew zetrzyj na tarce o dużych oczkach. 
Na patelni ( najlepiej wok) rozgrzej 2 łyżki oleju,  dodaj cebule i podsmażaj aż się zeszkli. Nastepnie dodaj pieczarki, fasolkę szparagową i marchew. Dopraw sosem sojowym, solą i pieprzem do smaku oraz opcjonalnie sosem tamari. 
Duś do momentu aż warzywa będą miękkie. 
Danie podawaj na ciepło z makaronem ryżowym oraz tofu posypane białym i czarnym sezamem. 
Smacznego