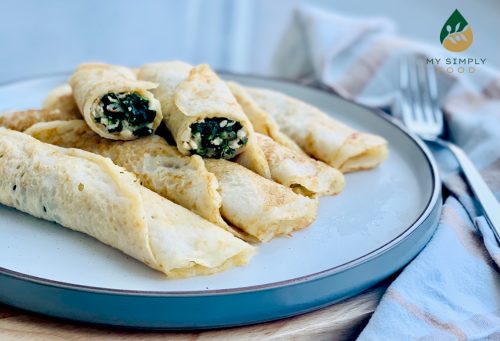 Recipe for vegan and gluten-free pancakes with spinach and tofu
         1.Recipe for pancakes:
Ingredients:
2 glass of gluten-free flour
1.5 glass of oat milk
1 glass  of water
5 tablespoons of cold Milled flaxseed
Salt
A method of preparing:
Mix all ingredients thoroughly.
Fry in a pan on both sides until golden.
        2. Stuffing recipe:
Ingredients:
150g of fresh spinach
1 cube of silken tofu
1 onion
1 clove of garlic
A piece of chili pepper
Salt
Pepper
Oil
A method of preparing:
Peel the onion, chop it finely and fry in a little oil. Add a bit of chili pepper.
Simmer for a while until the peppers are soft.
Add spinach and tofu and fry until the tofu is grainy and the water evaporates.
Then add a clove of garlic squeezed through the press, salt and pepper.
Stew it all for 5 minutes.
Put the stuffing on the pancakes and wrap them in a roll.
Enjoy!