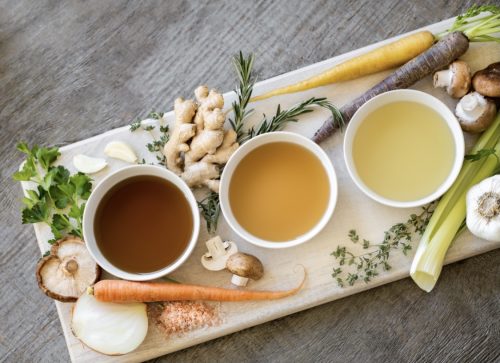 Recipe for aromatic vegan broth
The broth is an excellent base for soups and sauces.
Our vegetable broth will add a deep taste and aroma to your dishes.
Ingredients:
1 onion
1 garlic clove
3 carrots
2 parsley
1/2 celery
5 cm leek (white part)
2 tablespoons soy sauce 2
bay leaves
3 allspice grains
500 ml water
parsley
oil
Dice the onion and garlic into small cubes and fry in olive oil. Add the peeled and cut into smaller parts carrots, parsley, celery and leek. Fry them and pour soy sauce. Then add spices and 500 ml of water. Simmer for about 30 minutes. Finally, season with salt, pepper and olive oil. Drain the broth through a fine strainer. Garnish with chopped parsley.
Enjoy 🙂