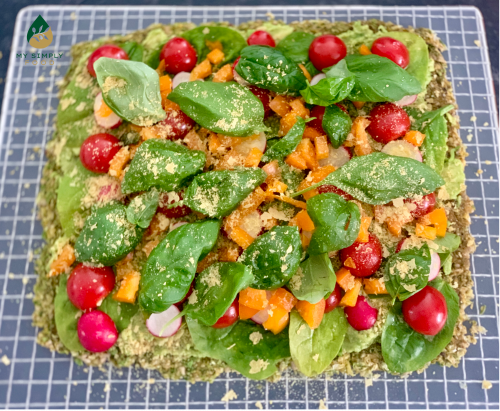 Raw vegetable pizza
Ingredients -pizza bottom
200g of frozen corn – defrosting
200g of frozen green peas – defrosting
1/2 cup of sunflower seeds
1 tablespoon of ground linseed
1 teaspoon of dried garlic
1 tablespoon of hemp oil
1 tablespoon of soy sauce
A method of preparing:
Mix all ingredients in a food processor.
Put it on teflon foil and spread.
Place the foil with the bottom on the grid and dry it in the dehydrator for 6 hours.
After this time, use the second grid to transfer to the other side and dry it for another 2 hours.
Top of the pizza: 
Brush the bottom of the pizza with mashed avocado and sprinkle with yeast flakes and pinch of salt.
Then put on top:
spinach
red onion
cherry tomatoes
radish
peppers
fresh basil
Season with salt to taste and sprinkle with yeast flakes.
Enjoy!