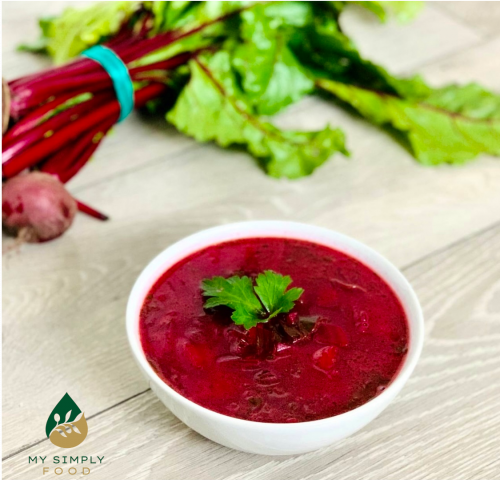 Recipe for vegan beetroot soup
Ingredients:
3.5 liters of vegetable broth
1 parsley root
3 carrots
5 beets
3 bunches of beetroot
2 cloves of garlic
1 onion
1 can of coconut milk
2 tablespoons of coconut oil
salt
pepper
soy sauce (optional)
Method of preparing:
Dice the onion and chop the garlic finely.
Fry in oil at the bottom of the pot.
Wash and peel the carrots, parsley, beets thoroughly and dice everything.
Wash the beet leaves and cut them finely.
Put the vegetables in a pot with onion and garlic and fry for a few minutes. Season with a pinch of salt and pepper. Pour the broth over it and cook for about 20 minutes. Then add coconut milk.
Season to taste by adding 3-4 tablespoons of soy sauce or salt and pepper
Bon Appetite !