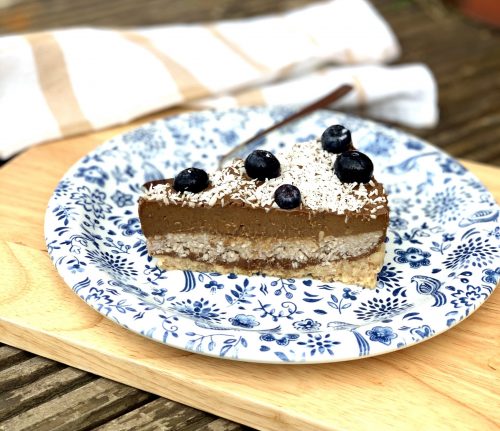 Recipe for banana and chocolate cake without baking
Ingredients:
Bottom:
2 cups peeled almonds
7 dates
First chocolate layer:
1 avocado
2 dates
1 tablespoon of cocoa
2nd banana layer:
5 bananas
1.5 cups of coconut shrims
1 tablespoon of lemon juice
3rd chocolate layer:
3 avocado
1 banana
13 small, pre-soaked apricots
1 handful of pre-soaked raisins
3 tablespoons of cocoa
1 tablespoon of date syrup
On top:
Coconut shrims
Blueberries
A method of preparing:
1. Blend almonds and dates in a food processor. Put the mass on the bottom of the springform pan with a diameter of 24 cm.
2. Blend each layer until smooth.
3. Then lay out one by one – chocolate, banana and chocolate again.
4. The top of the cake can be decorated as you like by choosing your favorite fruit.
Here blueberries and coconut shrims.
Bon Appetit 🙂